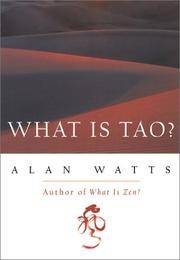 In this section of Dr. Eric Amidi reviews, a book by Alan Watts titled "What Is Tao?" is the main focus. Alan Watts is famous for his clear and concise introduction of eastern philosophies to the Western world. This book is no different.
This short but highly informative book is split into 2 parts, The Way of Tao and The Gentle Way. In this book, he explores our place in nature and how a great power emanates from the balance in nature. Taoism points out how we create imbalance by defining and labeling elements of nature, thus creating opposites. Lao-Tzu mentions how we create ugliness by seeing beauty, or create bad, when we see good.
Just being rather than judging is the way of Tao. When we judge and observe something we change it in such a way that it will never be in its state of balance. This worldview closely coincides with the premise of observers irreversibly affecting the matter in quantum physics. To paraphrase a golden nugget from this book, if you are enjoying your life without knowing, are you really enjoying it? What if you start asking whether you are enjoying your life or not? Would you still be enjoying it?
To delve a bit deeper, an introduction of Taoism is in order…
Discovering Taoism and Letting Life "Flow"
You might be surprised to learn that describing the history of Taoism is a difficult task. The reason for this is that it's hard to track down an official start date or find a founder's name.
Most scholarly sources reveal that there actually isn't any one founder or start date related to Taoism. The closest thing you'll find to a start date is that around the 4th or 3rd century BC, Taoism was created as a religious structure in China.
Finding a true founder is even more difficult. There are scholars who say the first man to accept the inspiration of the Tao was Lao-tzu (sometimes spelled Laozi).
Unfortunately, there is much disagreement around the question of whether Lao-tzu was a real, historical person, let alone exactly when he may or may not have lived. Since Lao-tzu means "old master", many scholars hang on to the idea that he is more of a legend than an actual person.
What is Taoism Then?
Taoism is a form of belief system that follows the idea of the Tao. It's inside the meaning of Tao that will help you gain insight into what Taoism is and how it differs from most other belief systems.
Tao, also referred to as Dao, is a character that looks like this 道. It represents a boat carrying a head on it. Its most literally translation relates to someone or something that leads the leaders, an entity carrying the head to sail forward.
The main concept of the Tao is that you are aided in your journey toward a specific destiny by something that is bigger than you. Some people say that the Tao is "the way", but this isn't quite accurate. It's more accurate to think of it like this: The Tao creates your path for you. You simply sail along as it guides you.
Nature plays a large role inside Taoism. Yes, you have control over yourself and you're able to use your thinking, wisdom and action keep to this control. However, Taoism helps you to tune in to the larger forces that help carry you forward in life.
That's where nature comes into play. You're moved along by nature, such as the cycles between the four seasons. Your survival is dependent upon how well you shift along with the changes of nature.
What Are the Various Types of Taoism?
There are some who describe the different types of Taoism based on region. These would include:
– Southern Taoism (popular in South China and in Taiwan)
– Northern Taoism (popular in mainland China)
However, you'll find that you gain more benefit by thinking of the differences from a philosophical frame of thought. This breaks up the different types into four main categories:
The Taoist Mind: The thought process here is that the Taoist Mind has brought forth many of the arts, such as Tai Chi
Philosophical Taoism: Most Westerners identify Taoism in this manner, where everything is based on reading and thinking about the Taoist texts. The Confucian Scholar Class in China brought this type of Taoism to life when scholars began meeting up to drink wine and talk about Taoism in philosophical terms.
Ritual Taoism: This type pre-dates the philosophical version and the ritual practice is what Westerners would most identify with as an actual religion. Most of the ritual sects combine Taoism with other religions.
Enlightenment Taoism: This form of Taosim is one where the goal is to form a secure link with the Tao in an effort to achieve the fullest of all human potential.
How to Understand the General Paths of Taoism
Just as there are different types of Taoism, there are also differences in terms of how the art of the Tao is practiced.
The main concept is similar across the board, which is that there is a leader that leads the leader. Another way to look at this idea is that you are on a journey to discover that which is greater than you are. In finding this, you're being carried toward a certain destiny.
What creates the different paths each person practicing Taoism goes down is that there is a different "Tao" leading them. This is what allows you to choose the path or destiny that fits you best.
While many of the ways used to get in touch with the Tai are similar, such as praying by an altar at home, burning incense or doing similar rites, rituals or daily practices, the variety of nature (remember the role of nature explained above) allows for the differences and general nature of the results gained inside the practice of Taoism.
How Can You Apply Taoism in Your Life?
The way you can benefit from learning about the Tao is to think about and internalize the most basic concept of Taoism. This concept allows anything in nature to "start". Things "start" when there is an interaction. Interaction happens when there is a connection.
So this concept or idea is to connect…to be as "One".
Everything will flow inside your life when you learn how to become "one" with your Tao. Make a decision, a commitment, to stay connected to your personal choice of Tao. This decision leads to a feeling of connection and breeds positive action in the direction of your chosen path.
The opposite of this is to never make up your mind. This leads to a state of feeling disconnected because you haven't decided in that "One" direction to flow toward. Indecision means there is nothing actually happening. You're in limbo.
This is why you'll often hear that the first step toward becoming a Taoist is to make a decision on your destiny by finding your "Tao".
If you're feeling confused about your direction in life, try practicing the art of Taoism. You might just discover that life becomes easier and flows toward a bright future.
"What Is Tao?" provides a concise introduction to Taoism in a relatively small book. It explains the basic premises of this eastern belief system as well as the ways you can implement it in your modern life today. All in all, it's a great text in this topic with references to founders of this philosophy. This makes it a fantastic read, which might even change your life.
What do you think? Rate and write a review below
Tao Te Ching
This book is not the most comprehensive guide. It is a very good introduction though. I would recommend Tao Te Ching.
Tao = Freedom
I love his books. Especially this one. He is so clear in everything he teaches. A no nonsense book about eastern philosophy.