From: Dr. Eric Amidi, Quantum Physicist

By the time you finish reading this, you will know how this Wealth Manifestation Session CD manifests avalanche of wealth in your life.
Just imagine what it will be like to wake up every morning and know you hold the "master key" to abundance. Your body will glow with warm light because you've finally found the right mind-set to achieve limitless wealth.
And the best part is, once you listen to this audio, you will attract financial abundance in ways that are completely in alignment with your higher self. Finally, you will be firmly in control of your spiritual and financial destiny.
And even after this Manifestation Session, all it takes is one simple secret visualization to continue multiplying your new rock-solid "wealth mind-set", over and over again.
"The Secret" book and the movie "talked" about visualizations, but this Wealth Manifestation Session actually does it for you.
"Hi Dr Amidi,

I've received the CD today and have just followed it through a session...WOW !!! I LOVE IT !!!!.Thankyou so much for such a wonderful session. It was so easy to go with it and drift into the receptive state....BRILLIANT.
Thank you, also, for teaching the "*********************" technique...it makes it all so much easier to contend with....fears need not be daunting any longer."

Thanks again
- Pauline S from Bellthorpe, Australia
*** References to the contents of the imagery are replaced with *** to let you experience the imagery yourself during the session for the first time
Can you imagine what are the most powerful visulizations and affirmations for wealth manifestations?
Have you ever wondered how you can so deeply relax to become one with the universe to attract your desires into your life?
You don't have to wonder anymore...
"This Audio CD Will Guide You Through The Most Powerful Wealth Visualizations and Affirmations Ever"
This Is Like Having Your Own Personal Guru Mentor!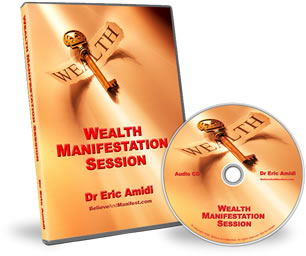 All you have to do is to sit comfortablly and follow along. You don't have to wonder how to relax or what to visualize or for how long...
This manifestation session does all the work for you
Some people only "read" about the "Law of Attraction". They go through seminars...
But all these books and seminars never tell you how to visualize in practice, so when it comes to actually doing it, they leave you all by your own!
As you know, great Manifestations come after strong emotions and feelings.
So, The Quality of the Manifestation Session Makes All The Difference In The World
If you are not doing it the right way, you'll get frustrated.
Have you ever actually had someone walk you through deep relaxation, visulizations, and affirmations, step-by-step, like a personal mentor?
What if I tell you that you can experience it first hand? "in practice", no theory!
"This Wealth Manifestation Session Will
Take You Through
The Deepest Relaxation, The Most Stunning Wealth Visualizations,
And The Most Powerful Affirmations,
Step By Step, and Easily"
And here's more...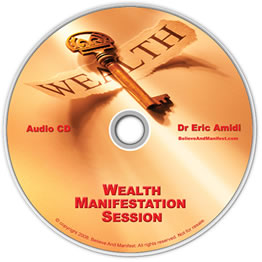 Just picture yourself sitting comfortably, feeling the most powerful imagery.
As you get deeper and deeper into the imagery, you start feeling more and more that things are changing for better.
You wonder, wouldn't it be amazing to have these feelings throughtout the day?
Then I show you the one secret visualization that you can use in everyday life to blast away any negativity easily, and multiply your new powerful wealth mind-set.
This manifestation session is like nothing you've ever felt before on relaxation and visualizations.
"Here's What You Experience
Soon After You
Go through This Manifestation Session"

Doubts and fears melt away. You'll be wondering "What was holding me back all this time, in the past?"

You will be released from any negative experience in the past that may be holding you back (even those that you are not consciously aware of)

Wealth manifestations and abundance opportunities and ideas start pouring into your life

You will experience the deepset relaxations using this state-of-art audio. A scientific method and technology are used to create the most soothing relaxation like a healing wave through your body.

You will experience the most potent imagery for manifesting your desires

You will have an extremely powerful method at your fingertips that you can use in everyday life to erase any undesirable experience.

Every time you go through this manifestation session, its effects get stronger and stronger (The snowball effect)
"If You Are Serious About
Practicing The Law of Attraction
This Audio CD is For You"
"Dear Dr. E.,

I recvd. my CD yesterday and last night I listened to it and it is AWESOME. It was the best manifestation session I have ever had!!"

Sincerely,
Kathy M from Sandwich, Massachusetts
"i absolutely love the cd ! i seem to have alot of negative clutter in my mind, and it sure is nice to know that i can ********************* ! you have been a great inspiration to my life, thank you again !"
Linda from Raymond, Washington

*** References to the contents of the imagery are replaced with *** to let you experience the imagery yourself during the session for the first time
Many people asked so many questions about manifestations and visualizations...
Things like:
* How can I quiet my mind and shutdown the logical mind in the most powerful way?

* How can I free myself from the past undesirable events that keep popping up in my mind?

* How can I reach the ultimate relaxation?

* How should I visualize to impress my subconscious mind?

* How long the manifestation session should be?

* What should I do when something negative happens?
* And the questions go on...
Then I thought:
"Why not just share my own
personal manifestation Session and imagery
With everyone? No holds-barred"
"Dear Dr. E.,
Thanks for the CD. What struck me most about listening to it was the simplicity and cleverness of the imagery..."
All the Best,
Leila from UK

In This "Wealth Manifestation Session"
Audio CD, I Show You:

The things to do to prepare a powerful and emotionally impacting Manifestation Session.

The biggest obstacle when trying to manifest your desire….and what you can do to remove it for good.

How to reach the deepest relaxations ever, using the most powerful scientific method.

How to quiet your logical conscious mind completely, become one with the universe, and attract your desires in your life.

How to experinece the most stunning imagery to get rid of past undesirable experiences for good.

How to experinece the most breathtaking imagery for wealth manifestations.

How to cut the cord to old patterns and negative experiences you might have had in the past and clear your path to great manifestations.

How to take easy steps on a daily basis to remove past programming, and finally see the change in your life.

And finally, How to take control of your financial destiny.

"This Is The Only Audio CD Out-There, That'll Show You In Practice,
How You Can Attract Wealth Naturally
—Like The Richest People Do"
"Dear Dr. E.,

I received your CD on Monday (June 30th) and was so anxious to listen to it ... as soon as I got home that evening, I proceeded to get tasks out of the way and I sat down and followed the CD to the very end. I have to say the part with the *************** to keep my past in the past was amazing. I felt such relief immediately and I feel that ********** all the time protecting me. A couple past experiences tried to come forward and I *************************. I also feel more open (like I have the space inside me or in my mind to receive and accept things).

I am sooooooooooooooo very GRATEFUL for this CD because the past was one of my biggest problems and I know I will move forward much faster now that you helped me build ********** to protect me. THANK YOU - THANK YOU - THANK YOU!!!!"

Dorothy K from
Canaan, Connecticut

*** References to the contents of the imagery are replaced with *** to let you experience the imagery yourself during the session for the first time

Many people pay hundreds or even thousands of dollars for seminars and classes on wealth manifestation.
Let me ask you a question...
How much would it be worth to you to have the power to get rid of undesirable events in the past, should-have's or shouldn't- have's, and regrets FOREVER and start afresh, so you can CLEAR YOUR PATH to great manifestations?
What if you could put your manifestations "on autopilot", and know a way to attract wealth, SO POWERFUL, that would feel effortless to manifest wealth opportunities and ideas?
What would that be worth to you?

Ten thousand dollars? Hundred?

If you really take the time to think about what it's worth to save the time, the MONEY, the EMOTIONAL PAIN, and the trouble for the rest of your LIFE, you might come up with a number in the hundreds of thousands of dollars.
To most people that I hear from, it would be priceless.

After much consideration, I've decided to offer this Audio CD to you for only $27.

Yes, you can own this Audio CD and start making breakthrough changes in your life for less that a cost of a movie and pop-corn for two!

Considering what this Manifestation Session is going to do for you, this will be the best Audio CD you have ever owned in your life.

I personally spent so many months to make sure every word and phrase, every method, every imagery, and every sound in this Audio CD would unleash the greatest power within you and set you along the path to Wealth Manifestations.

Now you can experience all this first hand using this state-of-art Audio CD for only $27.

I wish that I would have been able to buy all these life changing methods, visualizations, affirmations on a CD for only $27 when I started reseaching the most powerful manifestation sessions. And I know you will be happy that you made this investment in yourself after you go through this Audio CD.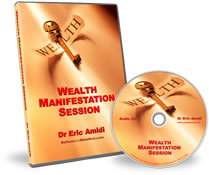 Wishing You the Manifestation of all your Desires,

Eric Amidi
P.S. Releasing yourself from the past to clear your path for manifestations and having an unshakable powerful wealth mind-set are the most important elements in manifesting WEALTH in your LIFE. You'll be listening to this Audio CD and its techniques to get rid of negativity and manifest Wealth in your life, AS SOON AS you receive the CD. Whether you are new to manifestations or very experienced, this Audio CD will take you to a whole new level.
P.P.S. Here's More Quotes From Those Who Got Their CD:
"Dear Dr. Amidi,
Thank you for your useful and effective renderings in your E-Book and Wealth Manifestation Session CD.
I have been studying the SECRET for almost a year. What you have introduced to me is causing my manifestations to take effect and your CD has caused my mind to uncluter itself not only of past thoughts, but with worrying about the future. That is because my manifestations have come alive.
It seems like you are not trying to rob people with a lot of necessarry mumbo jumbo clutter stuff. You cut to the chase and for low and reasonable expense, give the true seekers what they need to realize and experience THE SECRET."
Thank You
Phil E in California
"Dear Dr Eric Amidi
I have just listened to your CD and found it immensely profound... I think I am beginning to think differently already! I am looking forward to using this audio on a daily basis to enjoy ever more powerful and effective manifestation sessions and ultimately the rewards they will bring!
I am also looking forward to using the techniquies you suggest for ********* past bad memories and negative thoughts, with continued listening and practice these processes can only get better and lead to the kind of clear, optimistic and positive mindset I have been after for so long...
...Many thanks for the advice, guidance and such an excellent product! The really strange thing is that though I have been looking for this kind of information, when I first came across your ad for your ebook I was looking for something totally unrelated to these matters... almost like I was 'attracted' to it! "
Many best regards
Andrew P from Staffordshire, UK
Dr Amidi,
"I enjoyed the manifestation CD... very powerful..."
Thanks for what you have created!
Sincerely,
Jim A from Farmington, Utah
"Dr Amidi,
I just experienced your wealth manifestation audio for the first time and feel calm and refreshed. I have been going through many ups and downs experientially and was becoming increasingly downhearted, allowing myself to succumb to the negative mindset that seems to be pervading my environment, especially my work environment. I have put all of that negativity behind me, it's in the past. Thank you for the opportunity to dump the baggage, to forgive myself for past mistakes and to forgive others for their offenses toward me. Thank you!"
Sincerely,
Dorothy L
"Dear Amidi,
I have just finished my first manifestation session with my new CD. I feel relaxed and free from the bad things in my past. Thank you."
Sincerely,
Carroll S from New Orleans, Louisiana
I have used the maifestation cd 3 times now. I use it in the afternoon and just before I go to bed.
My mind races alot but have been able to relax enough to start seeing things clearer while listening...
... But with this cd, I have been able to visualize the new home that we will be moving to and it gets clearer each time I use the cd.
I thank the universe for everything and now that I understand alot of the manifestations I have even thanked the people who have done this to us, because everything does happen for a reason. My childrens clothing is starting to sell and I am meeting wonderful people in the process.
I will keep you updated on my progress and bless you for all your wonderful emails.
"
Debi from Oklahoma City, Oklahoma
"Dear Dr. Amidi,
Thank you for the Wealth Manifestation Session CD. I found it very relaxing and uplifting. I look forward to listening to the session on a regular basis and to experiencing the fruits of this manifestation in my daily life. I will also apply the technique of *****************."
Sincerely,
Cynthia C, M.D.
"Dr. Amidi
I have just finished going through the "Wealth and Manifestation Session" CD and I must say that it was an amazing experience.
I felt thoroughly relaxed as I've never been throughout the whole session and I actually feel like my past is now behind me and all I have to look to is ahead.
I thank you for providing this experience to me and I am positive that the future that I am truly deserving of is currently manifesting."
Bert
"This audio is sooo wonderful, magnificent. I felt so pure and powerful. The visuals were like nothing I have ever experienced before. I am so grateful and thankful to have discovered such a wonderful feeling in my life."
Thank you soo much. Much love, Ev
"Hello Dr. Amidi, I want to express my gratefulness about the creation of the Believe and Manifest CD, I have been cutting cords from past relationships and this cd came in the right moment, I am committed to practice it everyday."
Thanks a lot for this wonderful gift you have created.
Julieta
"Eric,

I have listened to your CD only once, since then marvelous things have increased the manifestation of good things for me.

Money,I never expected, arrived. I am debt free from 99% of my financial obligations.
What a relief. And the other 1% I am working on eliminating...
I am the more healthy than I have been in 30 years. That is so so good."

I am so grateful to my higher powers. Thanks.
Carol
"
Hello,
I just wanted to let you know I've been listening to the Wealth Manifestation cd I purchased from you and I'm really happy with it. I've only listened twice and already feel better about my past and I've noticed I am feeling better about money too.
Also, I really look forward to your emails too, I am going to purchase your e book too because I think I'll find it very helpful also. Keep up the good work and thanks again.
"
Dawn
"I must let you know, listening to your CD really blew my mind. I hadn't expected it to be this good. The music, the accoustics, your calm and soothing voice, they were really effective in helping my mind relax enough to visualize.
But the greatest thing of all is, I am no longer bothered by events of the past that always seem to crowd my mind relentlessly. They hardly ever appear now and as soon as they do, I consciously let them go.
I feel so blessed to have had the opportunity to own this knowledge, something that will always be with me, and I have you to thank for."

Kind Regards, and Thanks
Johanna

"Dear Dr. Amidi:
I have listened to the CD 4 times now and find that even after the first time, there was a shift in me....it was slight, but I felt it....after the 4th time (last night) I am aware of a huge shift. I am a searcher about life and spirit. I have done many types of programs. I find this one to be "really important"......
Thank you for your dedication in designing and offering the "Wealth Manifestation Session"...I am looking forward to listening once again this evening."
Sincerely,
Linda
"Hi,
I received the CD yesterday and listened to it before bed time.
I had read your manuscript but I was not able to apply it by myself
I have a tendency to resist any kind of subliminal suggestion
and it is very hard for me to go into a receptive state. But somehow
I was very close to let go with this first time and my whole body
relaxed, even aches and pains in my arms and legs vanished and
I had the most relaxing sleep last night. I will continue to listen
to it and I am suggesting it to my closed ones.
Thanks again – this was my best buy ever!!!
"
Luna, Montreal Canada
*** References to the contents of the imagery are replaced with *** to let you experience the imagery yourself during the session for the first time